Specifications
1. TX5804 Flysight FPV AV Transmitter
2. 5.8GHz,32 channels
3. 4000-5000meters,6-28V
4. OEM&ODM welcomed
5.CE certificate



32CH Wireless Mini 400mW Fpv AV Transmitter suitable for DJI Phantom
♦ 32channels 5.8Ghz 400mW 32channel 5.8G Fatshark compable TXRX for quadrocopter.The frequency band can be selected by user themselves;
♦ Compatiable with Fatshark,airwave,Immersionrc and others.Fully compatible with 2.4Ghz R/C radios; 5 version is direct to charge Gopro hero 3;
♦ Switching the video channel remotely to avoid the interference from another transmitter on the same channel;
♦ Cool Heat Sink to keep it from over heating although the transmitter has 400mW enough of output power work with your rc toy perfectly.
5.8G 400mW Tx only;With channel button to change channels easily; Display Channel number;
Channel memory function for power-off; Channel Frequecny Optional from the 4groups(3rd groups as default).
Data Parameters:
Transmitter(TX5804)

Transmitter Frequency

5665-5945Mhz;32CH

Transmitting  Power

400mW/27dBm

Transmitting Distance

Above 4KM-5KM(open area)

Channel  Number

32 channel

Frequency  Control

Built-in Frequency and with channel button to change channels easily

Working Voltage

6-28V

Operate mode

Channel Frequency selection with digitial display

Power supply

6.5-15 V

Current supply

280mA 

Dimension(L*W*H)

57*27.2*16mm

Net weight

17g

Application

Airplance,Helicopter,Quadcopter,Multicopter
Flysight Frequency Reference:
Remark: The transmitter's power input is ranging from 7-12V,however the voltage output from the TX for the camera us 0.5V,lower than the input power.It's suggested to use 3S lipo 11.1V battery.
Note:   Antennas must be attched before powering on.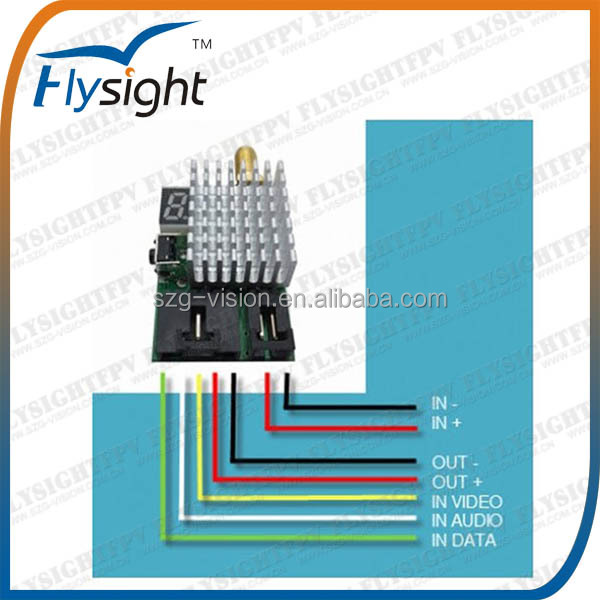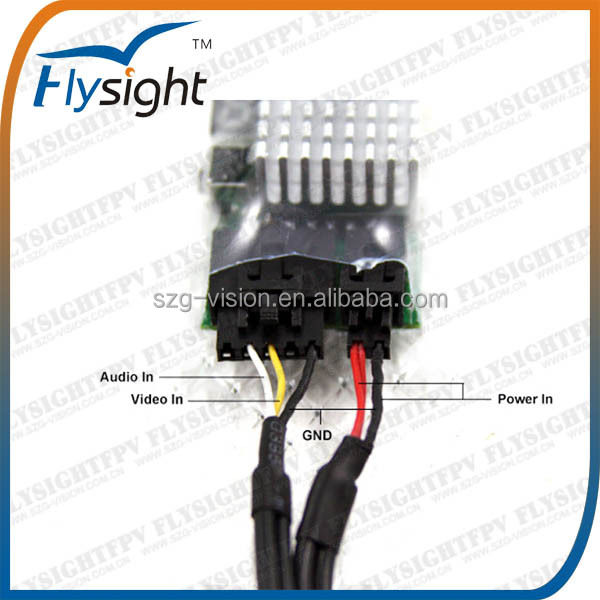 Product Details: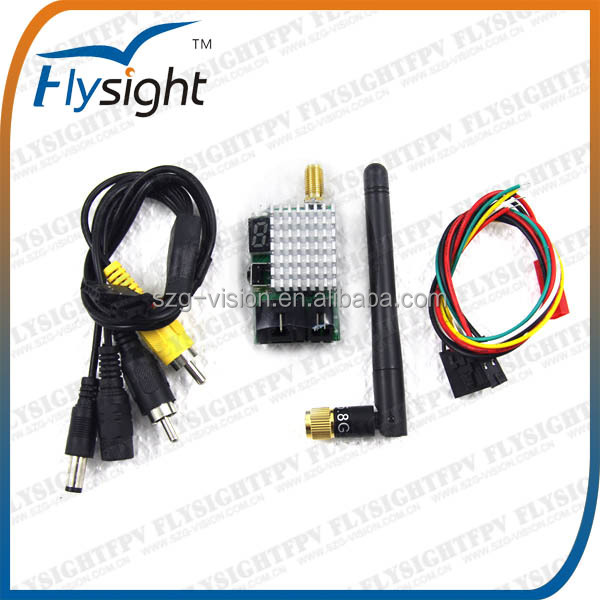 TX5804 AV Transmitter includeing:
1*T X5804 mini transmitter
1*5.8Ghz"rubber duck"antenna  
1*power cable-JST connection
1*RCA cable connector set for vedio output
1*Instructions
Factory show: